Visiting Solvang for a romantic weekend getaway happened when my husband and I celebrated our 20th Anniversary. This Danish village was magical during the holidays and perfect for an anniversary overnight trip.
I grew up visiting Solvang from my hometown of Santa Barbara, but this was the first time we experienced the town as a couple without the kids along.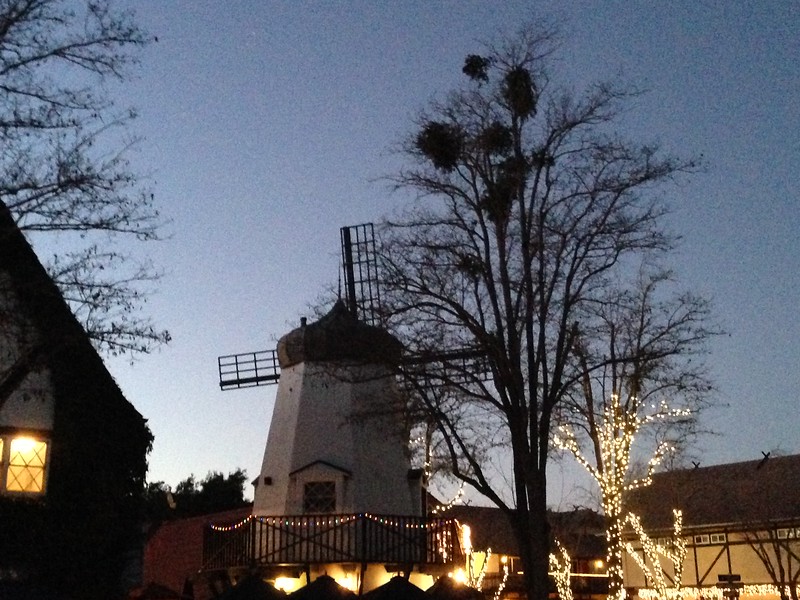 Visiting Solvang is great in winter, because it's colder than out on the coast and it feels more like December – as far as California goes. It can get very hot here during the summer, which makes winter the best time to visit (in my opinion!).
I also love Solvang because you can stay within walking distance of the restaurants!
What is Solvang CA known for?
It's known as a funky historic Danish village with lots of bakeries and it's a tourist stop for buses heading between Los Angeles and San Francisco. It's also known for wineries and winery tours — although Paso Robles is really the preferred destination for that.
Drive Time: It's about 2 ½ hours to Solvang from LA.
Weather: Solvang is in the Santa Ynez Valley and winter temperatures can get chilly in the evening. Dress in layers and bring a coat.
Solvang Hotels for Couples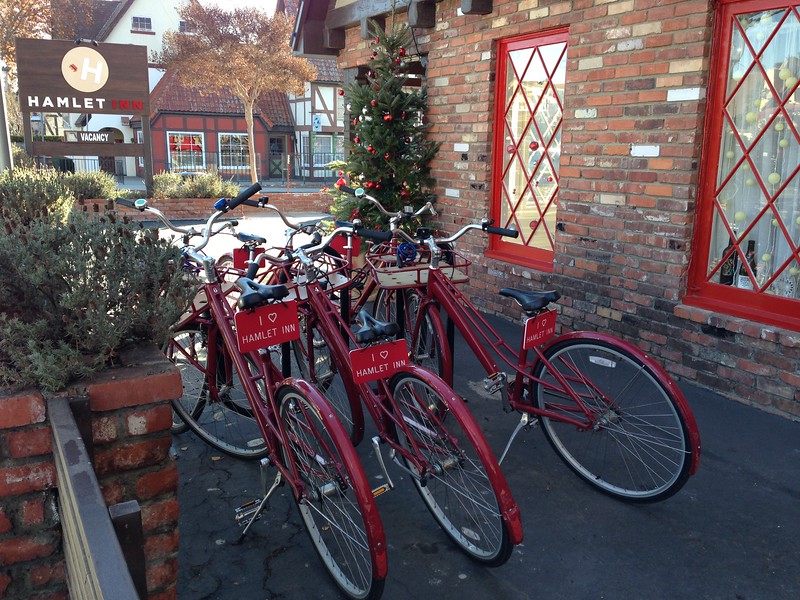 Solvang Romantic Restaurants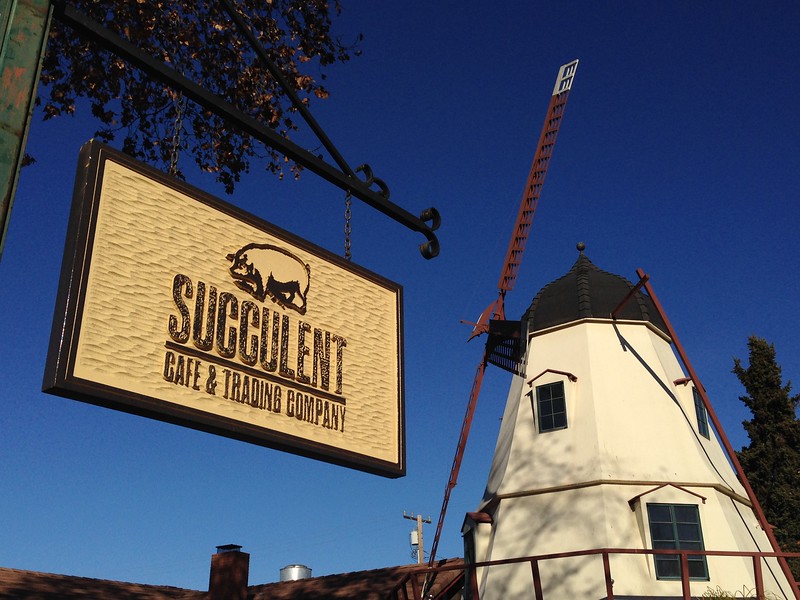 Solvang Family-Friendly Restaurants
Outdoor Things While Visiting Solvang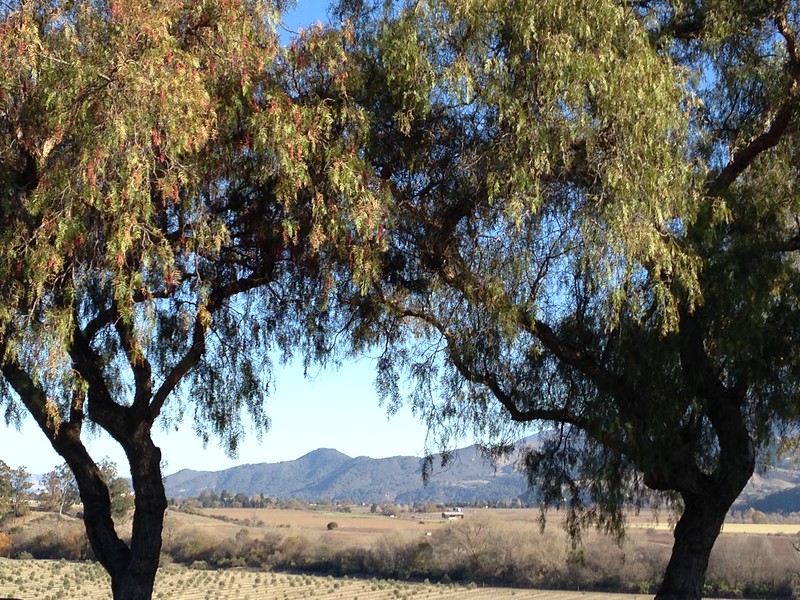 How to Spend a Romantic Day Visiting Solvang
AM – On our trip, we left the kids with the grandparents and headed up to Solvang by way of San Marcos Pass in Santa Barbara. We arrived for a late lunch in Los Olivos which is the cutest little town for couples! You'll want to leave time to wander the shops and take photos of town. We tried Sides Hardware & Shoes restaurant for a yummy food sitting at the bar. Then we walked over to J Woeste which is an indoor/outdoor garden shop full of treasures. We spent a good deal of our afternoon here just wandering and slowing down.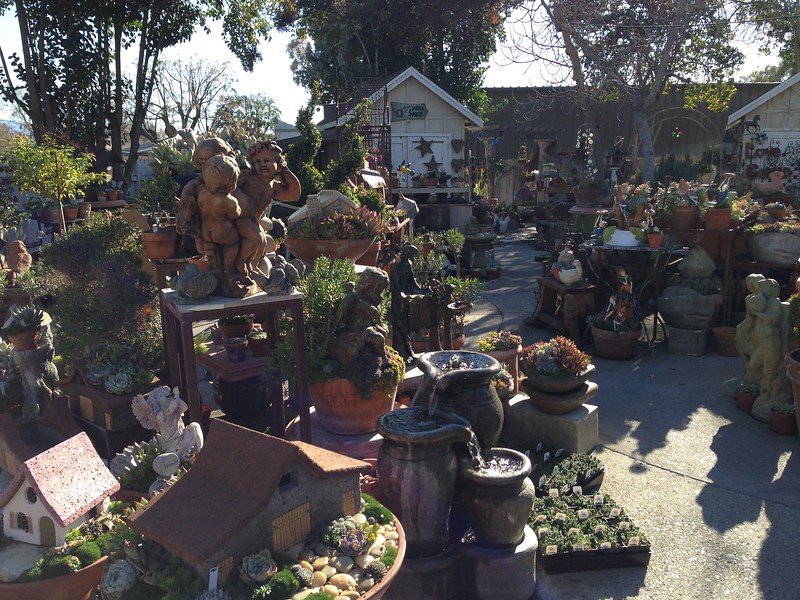 PM – On our way to Hadsten House Inn we stopped at the Quicksilver Ranch to see the miniature horses and at the Old Mission Santa Ines to wander the grounds and see views of the valley. After we settled at the hotel, we hopped back into the car for a drive past Alisal Ranch out to Nojoqui Falls Park for the waterfall hike. It was only an hour before the park closed at sunset. But it was plenty of time to spot deer and walk the short trail over bridges, up stone steps, and through fall leaves to the waterfall. We wandered through the park in wonder at the lichen dripping from the trees and the woodpeckers working the area and storing up their acorns.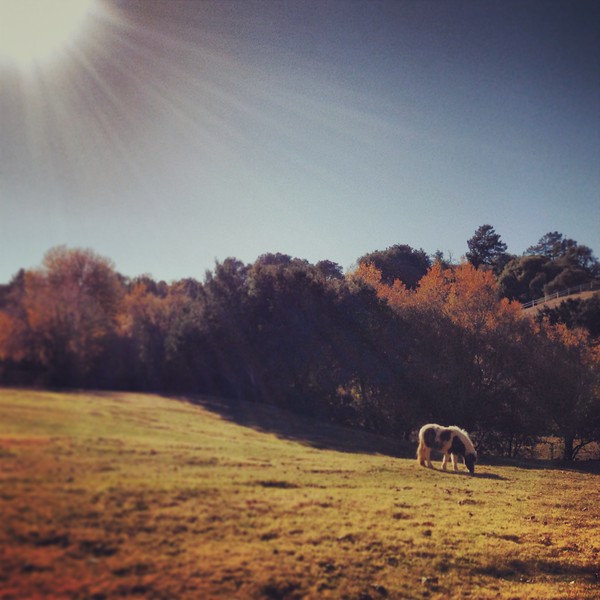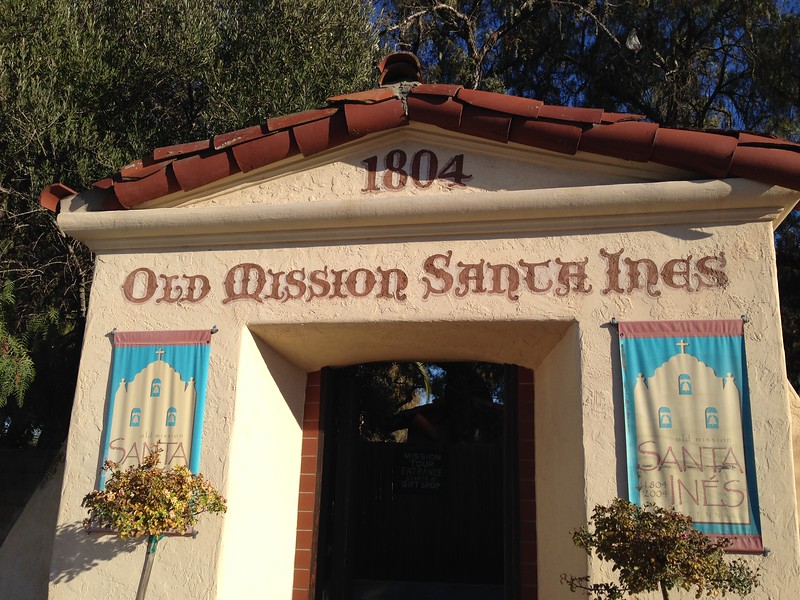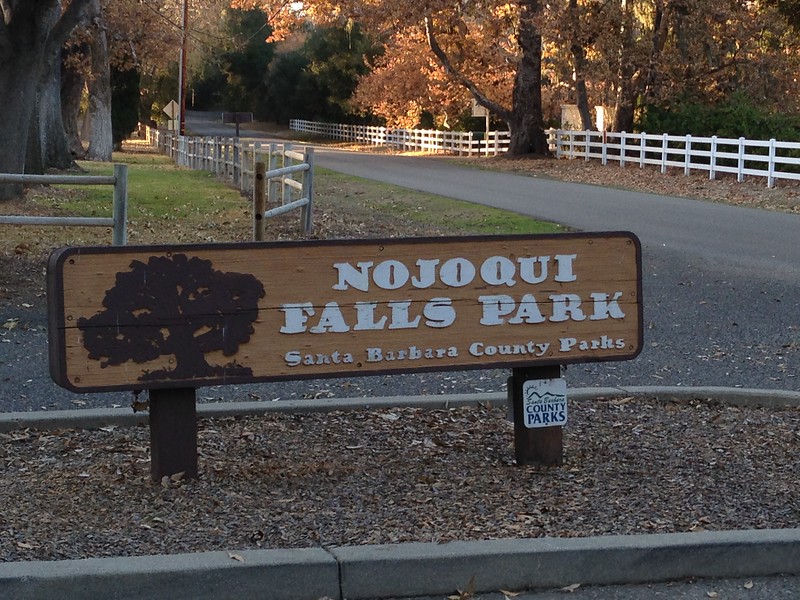 Then it was a pretty drive back to the hotel and a stroll around town. We had a glass of wine and listened to live music at the good life and headed to the Solvang Brewing Company where we shared an appetizer and the Danish Meatballs (Frikadeller) plate for dinner. We stayed at the Hadsten House Inn which has a fireplace in the room.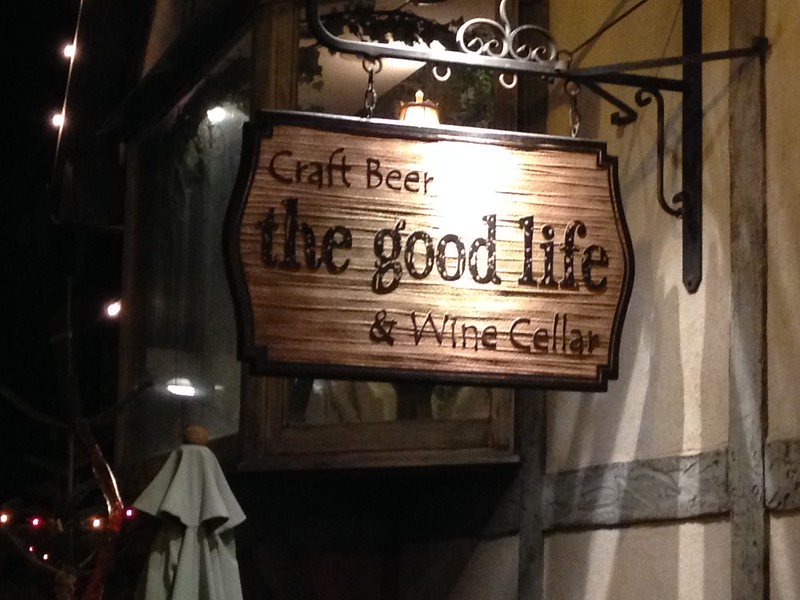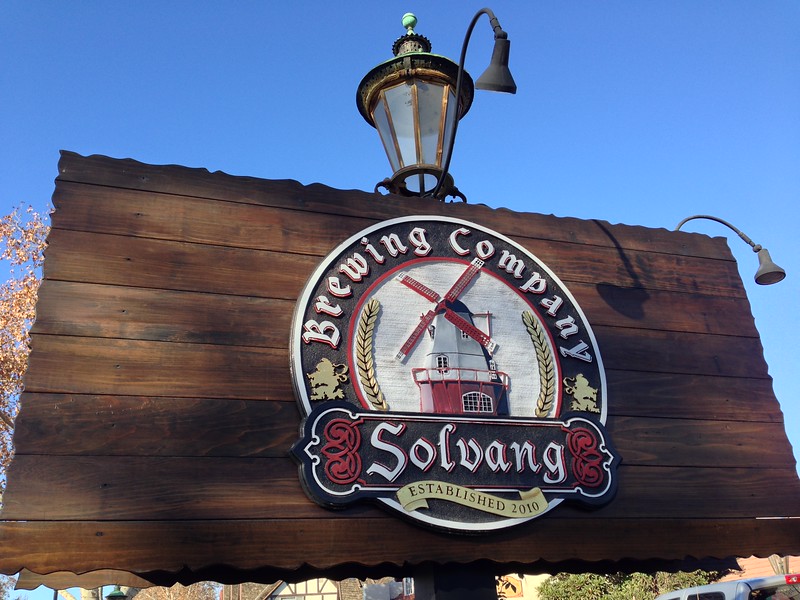 Best Solvang Bakery for Kringles
AM – Breakfast is included in the room rate and it's really good. We've stayed at Hadsten more than once. We walked around town again after breakfast and took in our favorite Book Loft independent book shop and got some goodies to take home at the Solvang Bakery – where they were all set up for kids to decorate gingerbread houses. The pastries to get in Solvang are the "Kringle" and the Danish waffles which are flaky pastries with whipped cream and fresh raspberry jam sandwiched between the pastries! We walked through all the bakeries to see who had the best of these two. Our vote goes to Solvang Bakery. Aebleskivers (round pancakes) are also very popular and we tend to head to the Solvang Restaurant sidewalk window for those!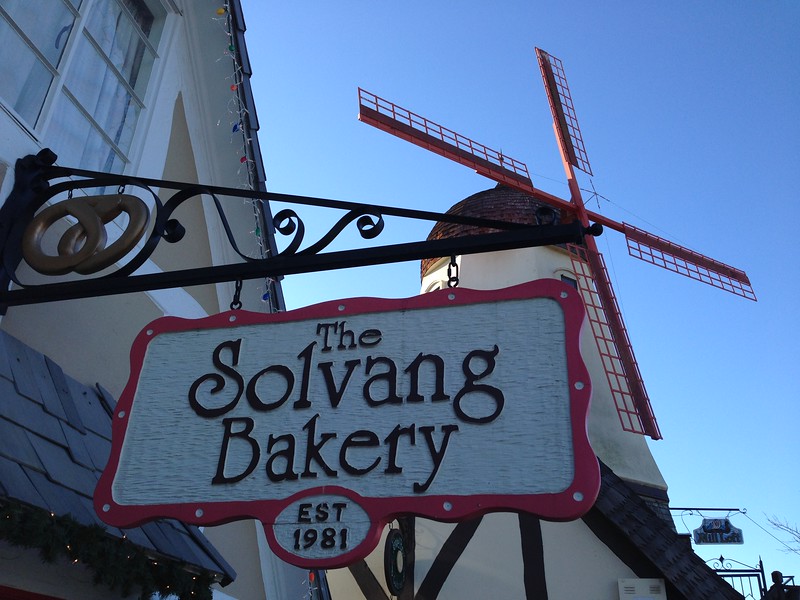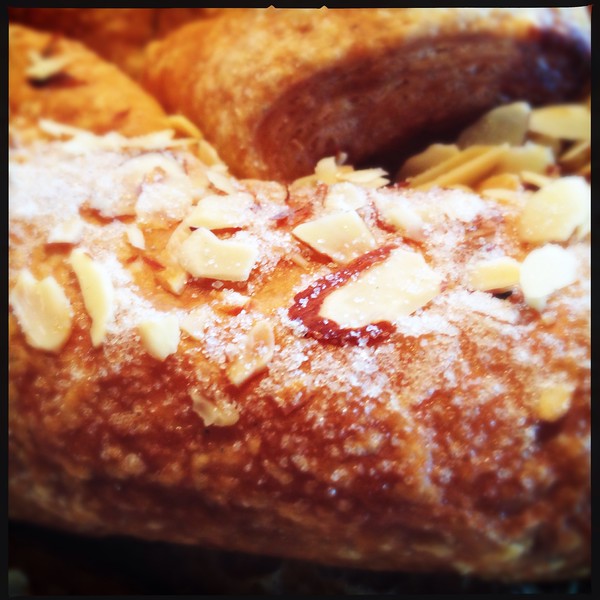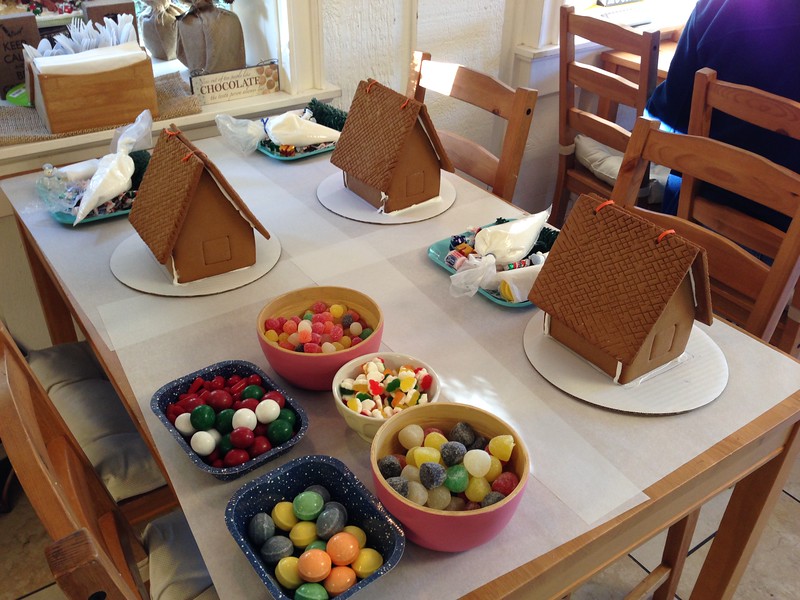 We headed back home before lunch time, but we stopped to check out the Lake Cachuma Campground on the way. It's a great spot and the weather was nice enough when we were there. They have yurts and cabins available if you're not up for camping in a tent.
Places to Play in Solvang
Of course, you're not going to be seeking out playgrounds on a romantic getaway to Solvang — but in case you happen to be driving by with kids or grandkids, these are pretty unusual and fun playgrounds for a road trip rest stop.
Disclosure: No compensation received for this post. Please do all your own fact-checking before booking travel.