This easy Beef Empanada with puff pastry is more of a casual California version of an empanada and not meant to be an authentic Argentinian version. It's a family favorite in our house and my kids request it all the time.
If you get a chance, support your local Argentinian restaurant that might offer a more authentic version as a weekly special or in their frozen section to bake at home. Here in Orange County, CA we love our neighborhood Villa Roma Restaurant.
When making these pastry pockets at home, I've experimented with pie crust and puff pastry. I've used egg wash to make the crust shiny and I've left it alone. My family likes the puff pastry WITH egg wash combo.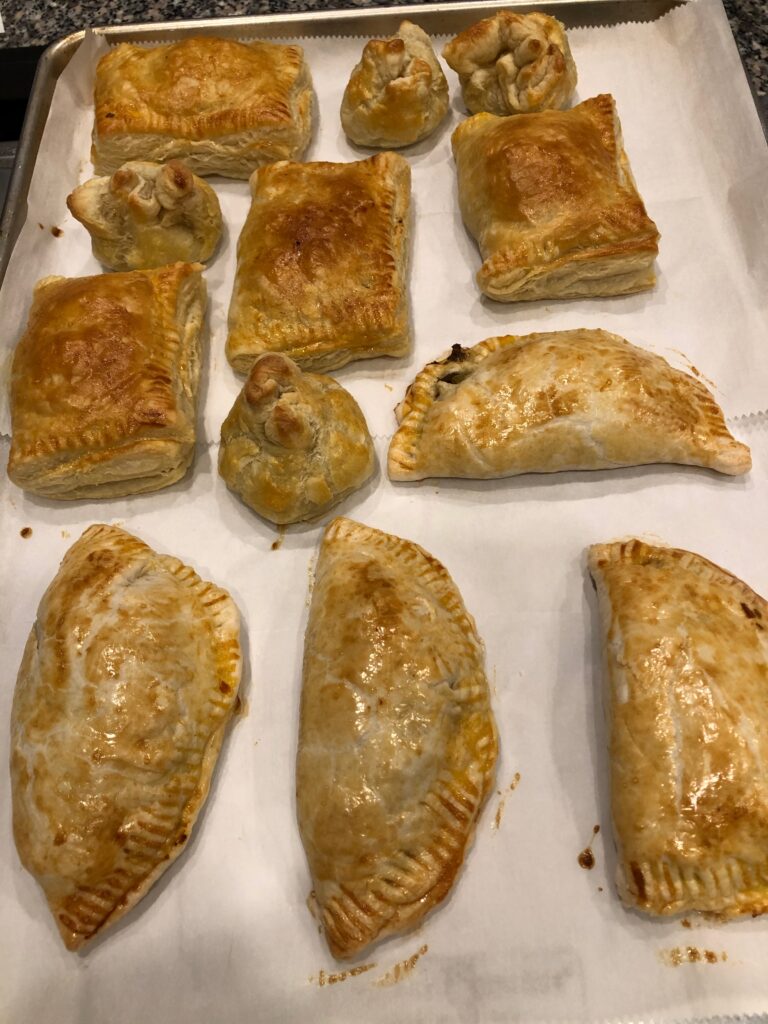 I know it's weird to make beef empanadas in rectangles and not half circles, but it's just easy with the squared puff pastry shape.
You are going to start making dinner by defrosting the puff pastry from the freezer, setting the oven temp, and then embarking on making the filling in a skillet on the stove top.
When I first made the recipe, it was too dry because I picked lean beef. My solution was to add some beef broth with a bit of cornstarch so it wouldn't get too runny and leak out of the pastry. I also added a little tomato paste for flavor and for its binding properties.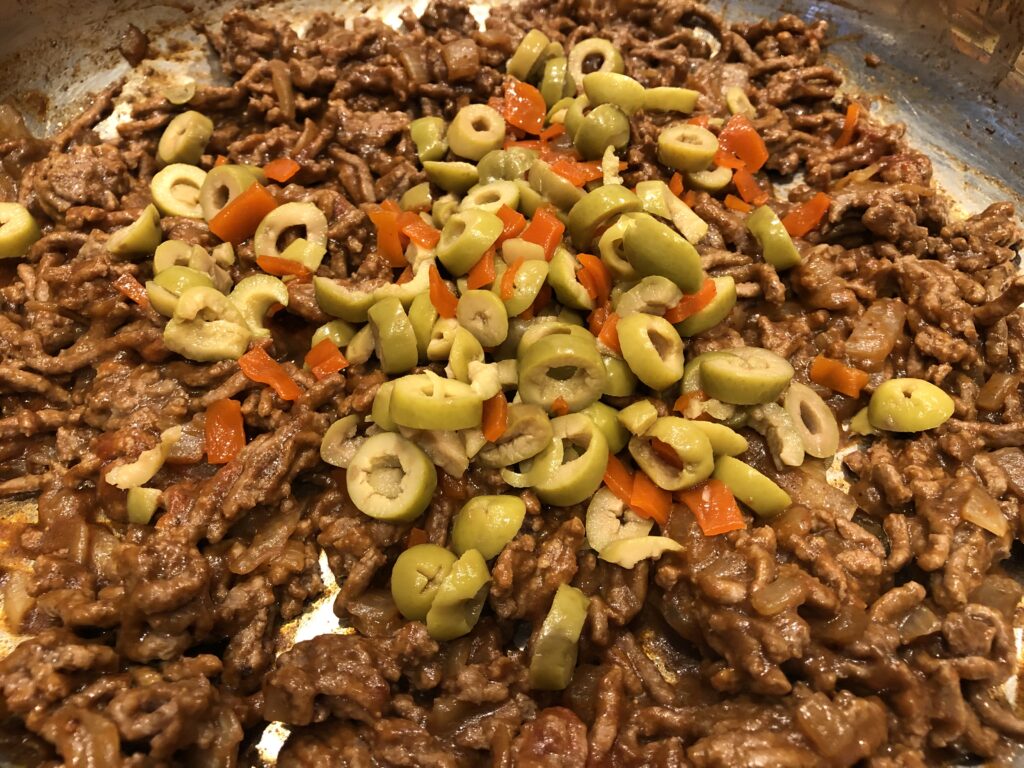 The result is a lovely and rich filling with lots of flavor once you've added the traditional trio of cumin, paprika, and cinnamon.
Even though it's an easy recipe, filling the pastry is the hardest part. It just takes time and a little finesse to make sure it seals. The key is to not overfill.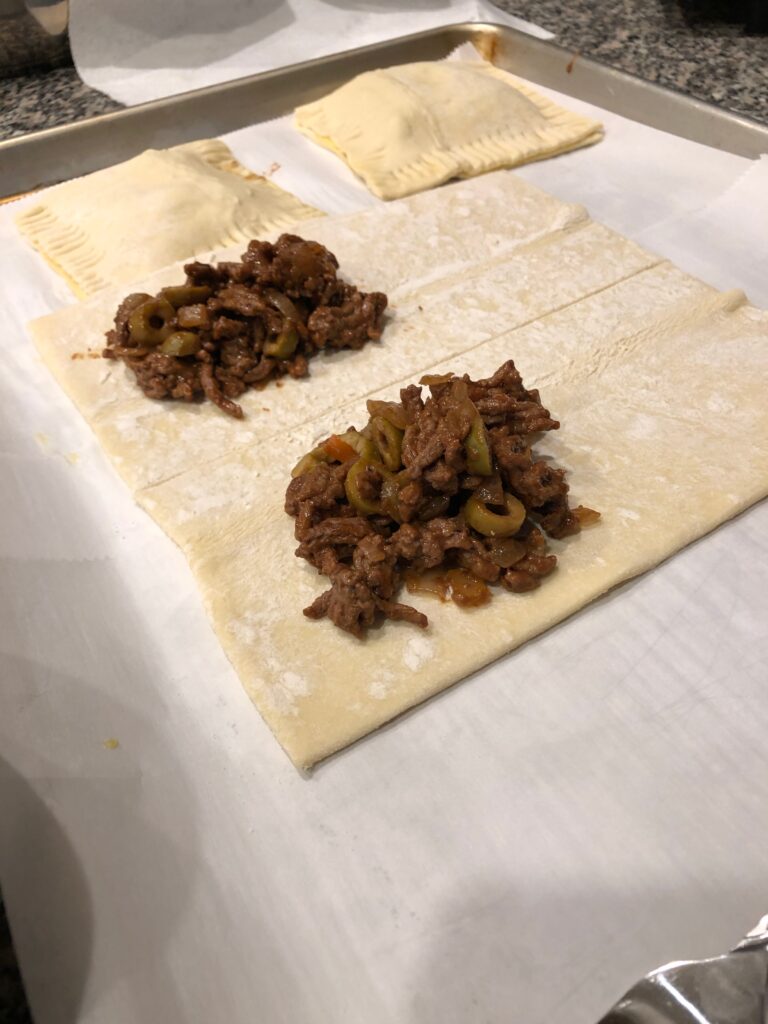 Finally, you'll put egg wash along the outer edge and seal with a fork. It only takes about 25 minutes to bake to a golden brown and then you can do your cleanup before it comes out of the oven. Notice that I put the pastries on parchment paper to make the cleanup go FAST!
You can add all sorts of extras to the filling like chopped spinach or bell peppers. Traditionally it comes with chopped hard-boiled egg, but my family doesn't like that ingredient so I leave it out.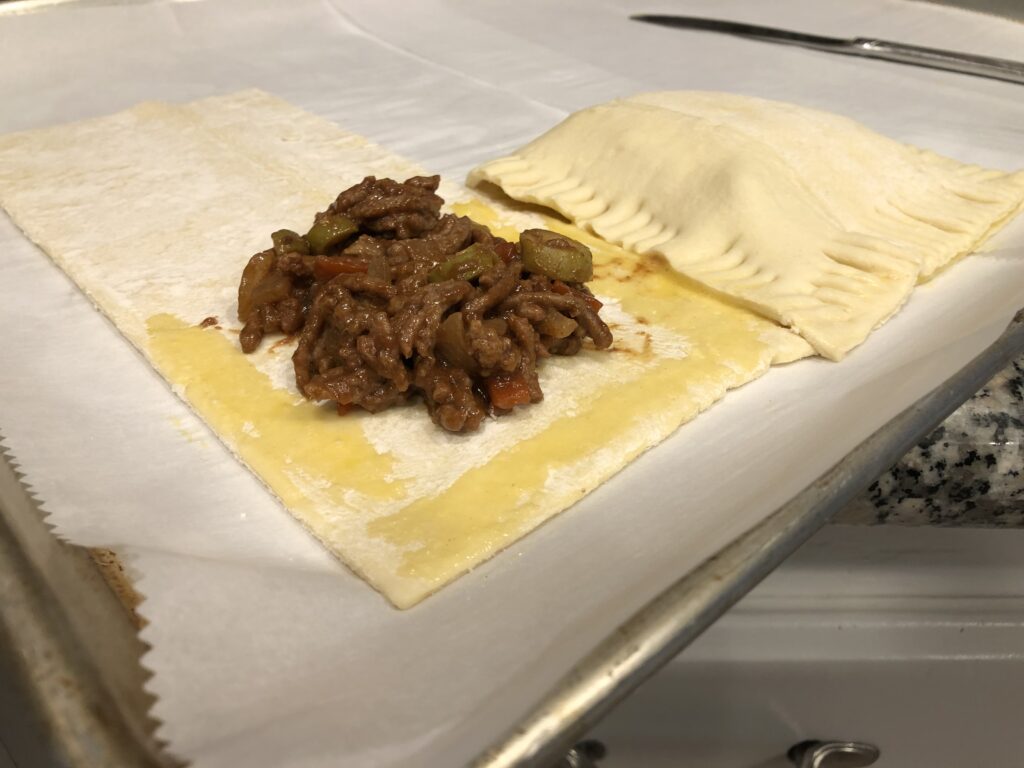 If you want to use ground turkey or chicken instead of beef, you can just switch out to chicken broth and have the same kind of flavor combo.
For a vegetarian version, use canned new potatoes and a few extra veggies with vegetable broth. Whatever you prefer to make it a meal. We like to serve it with a simple salad or just eat it as a stand alone dish. It almost tastes better reheated for lunch the next day!
Yield: 8 empanadas
Easy Beef Empanada Recipe Using Puff Pastry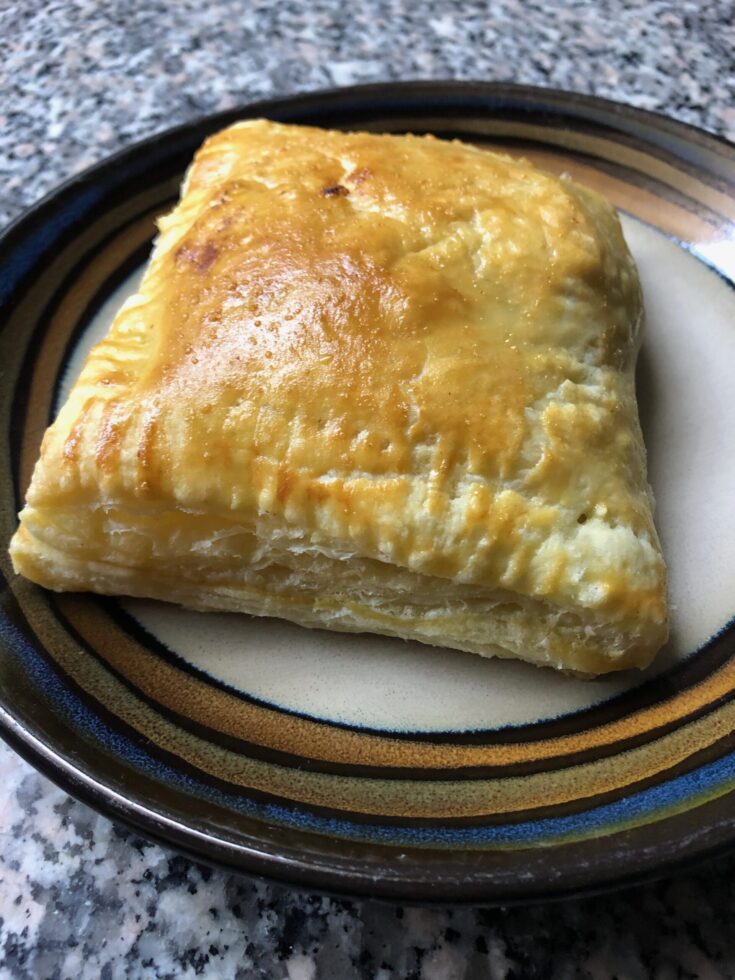 Comfort food empanada filling in a flaky puff pastry package.
Ingredients
Wrapping
2 boxes Pepperidge Farms puff pastry sheets (thawed)
Filling
1 sweet onion
2 TB olive oil
1 lb. lean ground beef
2/3 cup of beef broth
1 TB cornstarch
2 TB of tomato paste
1 tsp ground cumin
1 tsp paprika
1/2 tsp ground cinnamon
Salt and pepper (to taste)
3 oz. pimento sliced manzanilla olives
1 hard-boiled egg, chopped (if desired)
Topping
1 egg, whipped, for egg wash
Instructions
Put puff pastry sheets out to defrost for 40 minutes before you start. Preheat oven to 400 degrees Fahrenheit. Line baking sheet with parchment paper.

Make the Filling
Begin filling by sauteing onions in olive oil until lightly browned.
Add ground beef to onions at medium heat. Stir until beef browns.
Drain oil from pan, if there is any.
Turn heat to low. Add beef broth mixed with cornstarch, tomato paste, and spices (cumin, paprika, and cinnamon).
Mix well, then simmer until the sauce thickens (about 2-3 minutes).
Add green olives, and, if you want, the hard-boiled egg.

Assemble the Empanadas
Make sure puff pastry is fully thawed - if it's not, it will break apart and just not work quite right. (Hint: If it's not thawed, just heat it in the microwave for fifteen seconds according to package directions).
When you unfold the sheets, it looks like three columns; I cut the middle column in half lengthwise.
Put about two large spoonfuls of filling in the lower half center of the pastry. Think about using 1/8 of the filling per pastry. Leave about an inch around the sides for folding and sealing.
Paint the edge of the pastry with the egg wash for sealing. Fold the pastry and press down on the edges with the tip of a fork to seal so no filling will leak.
Brush the top of the empanada with the egg wash.
Repeat seven more times. (Or, if you're like me, do it two at a time so you only need to do it three more times!)
Make sure to save enough filling for ALL the empanadas! You don't want to run out halfway through.

Recommended Products
As an Amazon Associate and member of other affiliate programs, I earn from qualifying purchases.
Special thanks to my daughter for transcribing this recipe from my verbal directions as I made dinner. I know it wasn't favorite activity and very tedious, but hopefully you enjoy making this easy beef empanada using puff pastry to share with your family.